Restaurants and Dining on San Juan Island
[an error occurred while processing this directive]
Edit page New page Hide edit links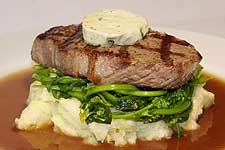 Come to San Juan Island and enjoy the art of eating fresh oysters from the Westcott Bay Oyster Farm located on San Juan Island or locally caught Dungeness crab dipped in a garlic, white wine and butter sauce. Downtown Friday Harbor and San Juan Island offer many amazing restaurants serving fresh local cuisine; some restaurants will feature organic fruits and vegetables grown in the chefs' personal garden.
There are a variety of restaurant styles such as Pacific Northwest, Mexican, Italian, Thai and American. We are proud to say that all of the restaurants on San Juan Island are locally owned and operated.
Whether you seek catering for a wedding, desire dinner for a large group or are planning a couple's special night, you will find the perfect restaurant for that perfect occasion on San Juan Island.
Checking out the Doctors Office Coffee Shop in Friday Harbor
I stopped into this coffee shop on a Wednesday evening and snapped off some photos to show you what the place is like.  Free WiFi, right next to the ferry landing, good prices, and a good selection of caffeinated beverages as well as ice creams, fresh juices, sandwiches, wraps, and pastries.
Friday Harbor Lodging Map
An easy way to find a place to stay while orienting yourself from a birds eye view of Friday Harbor and San Juan Island.
Coho Restaurant receives Wine Spectator's Award of Excellence five years running
"We are passionate about food and wine; we like top quality and good value," says Anna Maria de Freitas, one of Coho's co-owners.  "We seek out sources for exceptional foods that are close to home, but our wine list is international in scope, with a strong Mediterranean focus, to match the diversity of Executive Chef Bill Messick's menu preparations.