8 Great Bed & Breakfasts & Small Inns on San Juan Island - Plus Friday Harbor B&B's
[an error occurred while processing this directive]
Edit page New page Hide edit links
Last updated on Mon, 15 Dec 2014
San Juan Island features some of the most stunning and desired Bed and Breakfasts in Washington State. Easily accessible from Seattle and Vancouver B.C., ( view driving directions ) all of the Bed and Breakfast accommodations on San Juan Island and Friday Harbor are in close proximity to gorgeous beaches and many offer special views of snowcapped mountains cascading into the sea.
Spend the day whale watching, kayaking or visiting the local shops and galleries and then retreat to your bed and breakfast; a perfect haven to relax and unwind. Each owner prides themselves on preparing delicious gourmet breakfasts and offer beautiful, comfortable rooms; ensuring that your stay on San Juan Island becomes the first of many. This high level of hospitality has made San Juan Island world renowned for their Bed and Breakfasts.
Recently searched for: bed and breakfasts in Friday Harbor B&Bs in Friday Harbor bed and breakfast on San Juan Island San Juan Island bed and breakfast San Juan Island B&B Friday Harbor B&Bs
Suggested Itineraries
2 Day Itinerary
Air and Sea Weekend (No Car Required)
Day One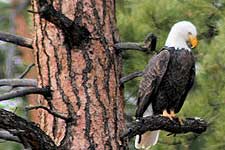 A Bald Eagle. Photo: Kangaroo House Bed and Breakfast.
Enjoy one of the most scenic flights you will ever experience aboard a Kenmore Air Seaplane departing from Lake Union in Seattle to Friday Harbor on San Juan Island. Once you arrive to Friday Harbor, the Best Western Friday Harbor Suites will have a shuttle waiting for you to take you to their hotel. From the Best Western, you can walk to downtown and check out the local shops. Grab a deli sandwich from Kings Market and then head out for an exciting day on the water aboard the Western Prince; a guided whale watching tour. Search for eagles, seals and orca in their natural habitat and talk with engaging naturalists about the local ecosystem. Tonight you can enjoy a steak and seafood dinner at the Peppermill Restaurant.
Day Two
Take a short walk to downtown Friday Harbor to get a bottled beverage at Kings Market and then meet the Crystal Seas Kayaking courtesy shuttle at the ferry landing. Here they will pick you up and then shuttle you to the west-side of San Juan Island for a guided 3-hour kayaking tour. Enjoy views of the snowcapped Olympic Peninsula while looking at amazing wildlife. Once the tour is finished, your guide will shuttle you back to Friday Harbor where you can shop and then take the Kenmore Air Seaplane back to Seattle.
3 Day Itinerary (Car Recommended)
San Juan Island Washington's Natural Wonder
Day One
Take your car across on the ferry, which is a Scenic Byway. When you arrive to Friday Harbor, check into the Harrison House and then grab enough food for a picnic from Kings Market or get take out from one of Friday Harbor's many great restaurants featuring organic local food. Drive along our country roads to the south end of the island where you can hike through golden fields along seaside cliffs at American Camp. Find a large log, unpack your lunch and relax at the beach for the day. This evening you can check out Friday Harbor's nightlife or relax at the Harrison House.
Day Two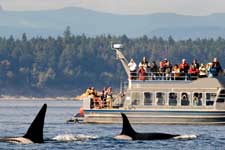 Viewing the orca whales on a whale watching tour; just one of the many family-friendly activities.
Wake up to a beautiful view of snowcapped Mount Baker and enjoy a delicious breakfast at the inn. Today you can have an adventure aboard the Odyssey with San Juan Excursions. This guided whale watch cruise will take you throughout the San Juan Islands searching for orca whales, Dall's porpoise, black oyster catchers, eagles and a variety of other sea life. Your naturalist guides will keep you informed on the geology, geography, and plant life that makes up the San Juan Islands…Washington's natural wonder.
Day Three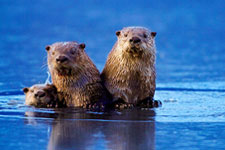 A family of otters. Photo: Outer Island Expeditions.
This morning you can drive to the north end of the island where you can take a guided sea kayaking tour with Crystal Seas Kayaking. Choose a day tour or a 3 hour tour paddling throughout the northwestern islands. Kayak past eagles, look for harbor porpoise and learn about the delicate ecosystem of the San Juan Islands. Once your tour is finished, you can drive back to downtown Friday Harbor to catch the ferry back to the mainland.
4 Day Itinerary (Car Recommended)
Active at Heart
Day One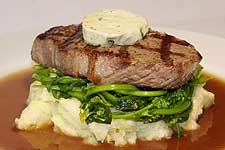 Photo: Steps Wine Bar & Cafe
Arrive to picturesque Friday Harbor and then check into the Harrison House Suites near the ferry. Walk around Friday Harbor and check out all the local shops, activities, art galleries and restaurants. Enjoy a seafood dinner at Downriggers and then relax at your inn.
Day Two
Enjoy an unforgettable breakfast at the Harrison House and then walk to San Juan Excursions to check in for a wildlife adventure aboard the Odyssey. Your captain will take you to see orca whales, sea lions, pigeon guillemots and all sorts of other wildlife found in the San Juan Islands archipelago. Certified naturalists will talk about the whales and share stories about the Salish Sea as well as pointing out the different family members of the local pods. Afterwards, you can enjoy dinner with food grown from the owners' garden at the Coho Restaurant.
Day Three
Today you can rent bicycles from Island Bicycles and tour the island on wheels. Cycle out to the south end of the island where you can take a break at South Beach (American Camp) and walk from cove to cove. Tonight you can enjoy one of Friday Harbor's amazing restaurants featuring Northwest Cuisine such as The Place, Coho Restaurant, or The Backdoor Kitchen.
Day Four
Wake up and then head to Mitchell Bay where you can enjoy a 3-hour or day kayaking tour with Crystal Seas Kayaking. Your guide will lead you along the west-side of San Juan Island in search of orca whales, eagles, seals and much more. Learn or improve your kayaking technique while paddling one of the most beautiful coastlines in the world. Once your tour is over, drive to the ferry landing and head back to the mainland.
Previous Itinerary Next Itinerary
Friday Harbor Lodging Map
An easy way to find a place to stay while orienting yourself from a birds eye view of Friday Harbor and San Juan Island.
Pet Friendly Accommodations in the San Juan Islands
Browse pet friendly accommodations on Orcas Island, Lopez Island, San Juan Island, and in Friday Harbor.