Scenic Flights
[an error occurred while processing this directive]
Edit page New page Hide edit links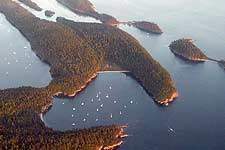 Pleasure cruisers take shelter at Sucia Island.
Friday Harbor Lodging Map
An easy way to find a place to stay while orienting yourself from a birds eye view of Friday Harbor and San Juan Island.
View the Orcas Island Accommodations Map
Get a birds eye view of Orcas Island and all of the places to stay!