Sea Kayaking
[an error occurred while processing this directive]
Edit page New page Hide edit links
Sea kayaking in the San Juan Islands is a popular activity amongst visitors to the islands for obvious reasons....
you're outside enjoying the temperate climate, you're getting a little bit of exercise, working up your appetite, and taking photographs of the wildlife to show your friends and family back home.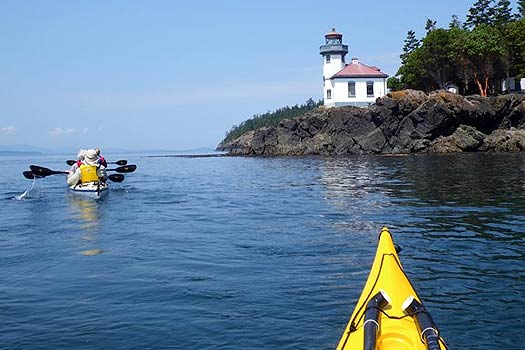 A sea kayaking tour on San Juan Island paddles past the Lime Kiln Point Lighthouse, a.k.a. Whale Watch Park. Lime Kiln State Park, San Juan Island. Photo: Jason's kayaking blog.
Few activities on offer in the islands offer a comparable experience. Sea kayak tours usually depart in the mornings or in the late afternoon when the water is calm and before the sun has set. San Juan Island, Orcas Island, and Lopez Island all have kayak tour outfitters so you can stay close to your accommodations.
You do not need to be in special shape for a kayaking adventure... the kayaks are easy to paddle and the naturalist kayaking guides make frequent stops at various points of interest for you to rest and learn about the unique biodiversity on offer here in the San Juan Islands.
Most kayaking tour outfitters will put you in a fast-moving but stable double kayak that seats two paddlers. Before you go out on the water the guides will give you a quick rundown of safety considerations and your equipment. You are encouraged to dress in layered clothing so you can easily adjust to the current weather conditions. You should also bring along a hat, sunglasses, your camera ( at your own risk ), and a snack or full lunch depending on the length of your tour.
Outfitters offer their tours during the spring summer and fall months... make sure to check their websites to make reservations and get early bird discounts.
Some tours depart from the local towns and villages and others will pick you up in town and drive to the launch point. Scroll down to select a reputable sea kayaking outfitter and enjoy your time on the water!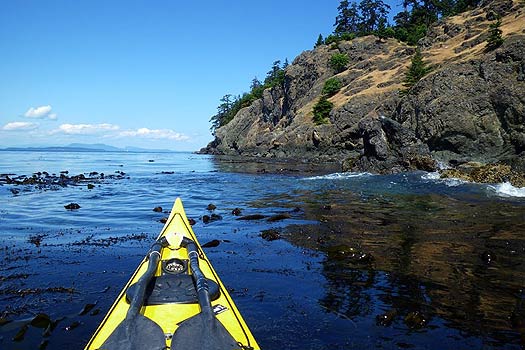 A sea kayaking tour paddles along the west side of San Juan Island. Photo: Jason's kayaking blog.
Friday Harbor Lodging Map
An easy way to find a place to stay while orienting yourself from a birds eye view of Friday Harbor and San Juan Island.
View the Orcas Island Accommodations Map
Get a birds eye view of Orcas Island and all of the places to stay!